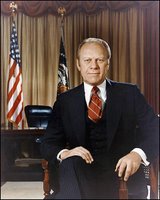 Former President Gerald Ford, at age 93, has passed away. It was news that saddened me. He was the first president that I, as a teenager, really started paying attention to. I thought he was cool.
President Ford was our first and only president that was not elected to the office. He did not seek the position, but it found him. He accepted the duties and responsibilities and brought dignity back to the White House.
Some people have called him the accidental president, and in a way he was. Some called him the clumsy president. Every time he stumbled or fell we were able to see it on the evening news. Chevy Chase became a star on Saturday Night Live by mocking this former star college football player's mishaps. President Ford was the lucky president, surviving two assassination attempts.
President Ford was also the healing president. After the lies and scandals of the Nixon presidency, Ford brought openness, dignity, and honesty back to the office. He was well liked by both Republicans and Democrats. During his brief term he helped the country put Watergate and the Vietnam War behind us and began to move this great country forward once again.
A lesser known and sometimes forgotten fact is that President Ford was a Boy Scout in his youth. In fact, he was an Eagle Scout, the only one to ever serve as President of the United States. When he became the president he brought his Scouting values with him to the office – trustworthy, loyal, kind, cheerful, and brave. He did his duty to God and country. He kept himself physically strong, stayed mentally awake, and was always morally straight.
Unfortunately, President Ford did not win the next election to remain president. Fortunately, he did not forget his Scouting roots. He narrated a video supporting Boy Scouting, its ideal, and values. I wish I still had a copy of the video. It would be great to see it again.
With the passing of President Ford not only has the country lost a great leader, but Scouting has lost a great role model, supporter, and friend.
"May the Great Master of all Scouts be with us until we meet again." I hope the Great Master has accepted this great Scout into his great kingdom with open arms. I hope to meet him myself one day and share Scouting stories.