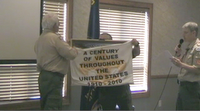 The Central Minnesota Council, BSA, held an open house on Wednesday, September 2, 2009, to kick off a year of celebrating the 100th anniversary of the Boy Scouts of America. Hundreds of people attended. There were plenty of games for the kids, a dinner provided by the Jamboree troops, and several displays showcasing the history of Scouting. There was a lot to do and see. I was there with my cameras, of course.
The Century Of Values road team was on hand to display the specially designed recreation vehicle (see the Melrose Scouting Productions Podcast #75) and to present the council will a reproduction of the mural featured on the back of the vehicle. The mural does a great job of showing the history of 100 years of the Boy Scouts of America.
This episode of the Melrose Scouting Productions Podcast (#76) is the second of four videos highlighting the events of the council's open house. This video features the presentation of the Century Of Values mural from the road team to the council president, along with an explanation of the mural and its design. Be sure to take the time to view it when it comes to your council.
More information about the
"A Century Of Values"
tour can be found on their website at
http://www.acenturyofvalues.org/
Also check out their blog and the post about their visit to the Central Minnesota Council. The road crew mentions that this was the largest crowd they had seen at a council event up to this point.
Leave a comment
using the link below, or at the
PTC Media
forums. You can
rate
the videos of Melrose Scouting Productions at the iTunes Music Store. By leaving a comment you will help us achieve a higher rating in iTunes.