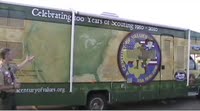 The Central Minnesota Council, BSA had some very special guests pay a visit on Wednesday, September 2, 2009. Ed Basar, Gordon Draper, David Berger, Don Cimo, William D'Hondt, Kenneth Mills, Ken Norin, members of Team 9 of the "A Century Of Values" RV Road Tour, had arrived in town for the council's 100 Years Of Scouting open house. Team 9 arrived not only to display the specially designed motor home but also to present the council with a print of a very special mural. (More about this on the next podcast.)
This video posted to the Melrose Scouting Productions Podcast features Dave Berger, who was kind enough to give us a tour of the outside design of this special vehicle that is making its way across the country. This RV is very impressive. If it has not stopped at your council yet be sure to check it out when it arrives.
More information about the
"A Century Of Values"
tour can be found on their website at
http://www.acenturyofvalues.org/
Also check out their blog and the post about their visit to the Central Minnesota Council. There is something about a castle mentioned.