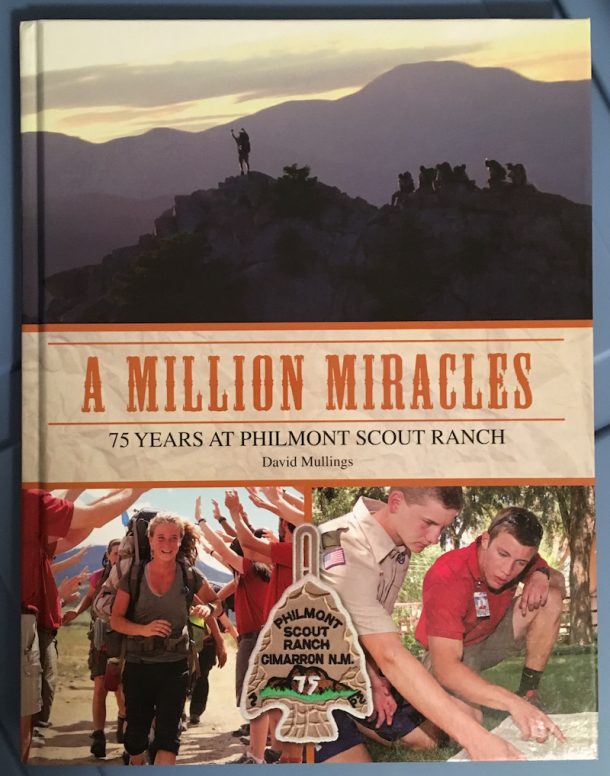 Seven Boy Scouts of Melrose Troop 68 recently participated in a trek at Philmont Scout Ranch. I was there to see them off when they left and wished them a good trip. After I returned home I was in a Philmont mood and noticed I had an email from the Tooth of Time Traders website, which is the place to buy all things Philmont related. ( https://www.toothoftimetraders.com )
I noticed a book was available for the 75th anniversary of the high adventure base. The hardcover book was named A Million Miracles, 75 Years at Philmont Scout Ranch. It was published by Donning Company Publishers, and written by David Mullings. The website says:
   In commemoration of Philmont's 75th anniversary this book was written to explain Philmont's Prehistoric History, Cimarron and its Wild West History, Waite Phillips' Story, 75 Years of Scouting, Philmont Today and Philmont Tomorrow. 
   Within the 120, full color, pages is the history of many years with great photos to document and memorialize those who came before us and helped make Philmont what it is today. A great gift for anyone with Philmont history.
I decided I wanted the book. Instead of ordering it through the website and paying postage, I sent a text message to one of the Troop 68 adult advisors, Dakota, who was on his way to the ranch. He replied that he would pick one up for me.
I stopped by his house yesterday and picked up my book. I am glad I had him pick one up. I have quickly paged through it and noticed it has great photographs from the history of Philmont. I look forward to reading it. It is a great addition to the other Scouting related books I have picked up over the years. Dakota also liked the book and picked one up for himself.
The book can be found online at http://www.toothoftimetraders.com/A-Million-Miracles-75-Years-at-Philmont-Scout-Ranch/-3155101591808044816/Product .
Have any of you read this book? What did you think of it?