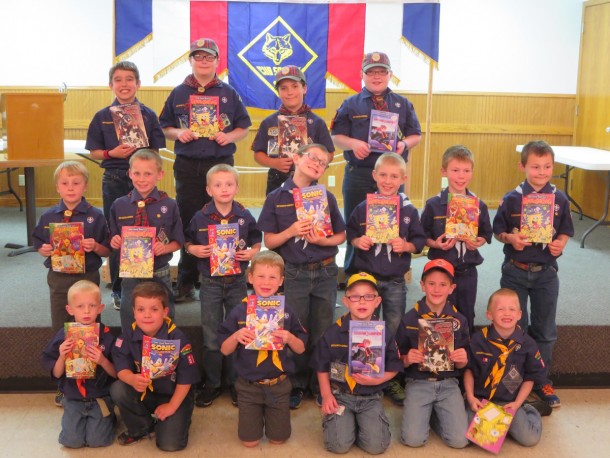 I have just finished my second year as the cubmaster for Melrose Pack 68. It was fun and I enjoyed it. The Cubs have such a different view of life then Boy Scouts. I am still getting used to working with them. I must be doing a decent job because the committee wants me to stick around for another year.
As the cubmaster, I try to talk to, and listen to, each of the boys when they come to me during a meeting. I try to give each of them at least a couple minutes of my time, which I fell is quite important. A year ago, I caught a quick comment by one Cub Scout who mentioned that he has never had a comic book. I collect comic books so the next time I went to the nearest comic book store I asked the owner if he could give me a good deal on some comic books I could give to the Cubs at the next pack meeting. He gave me enough for the pack free of charge, of a few varieties. The Cub Scouts thought they were great.
I decided to do it again this year at the end of the May pack meeting and graduations. The first Saturday in May is free comic book day. I went back to the store a few days later and talked to the owner about doing the same thing again this year with the Cub Scouts. He still hand some comic books left over from Saturday. We went through which ones would be appropriate for the age group, and once again he gave me enough to hand out to the Cub Scouts. The Cub Scouts were quite excited to pick out their choice of five different books I had brought to the meeting, which included SpongeBob, Sonic the Hedgehog, and Captain America.
What kind of extra little things have you done in your pack to make things more fun and special for your Cub Scouts? Leave a comment and let us know about them.