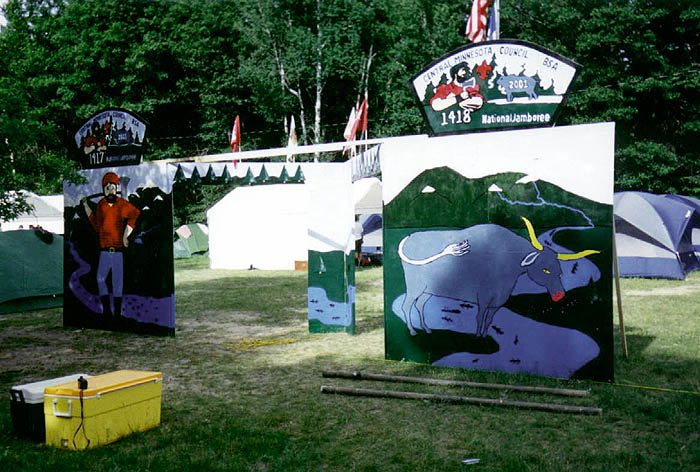 In 1999 Sue talked to me about it, I thought about it, I applied for it, I interviewed for it, and finally, I got it. I was going to be the scoutmaster for one of the two troops the Central Minnesota Council would be sending to the 2001 Jamboree.
Little did I realize how how work and how many meetings would be involved. I need to attend the council's Jamboree committee meetings, meet my assistant scoutmasters, and start putting our team together. I soon discovered that the eight men chosen to lead these two troops were very dedicated to the cause, that we would work together well, and make a great team.
I found that one of my duties was to promote the Jamboree among troops in the council and to recruit members. I quickly recruited nine members out of my home troop. My assistant scoutmasters did a great job of recruiting from their troops. The council did a little promotion. It did not take long before we had enough Boy Scouts to fill both troops and had a waiting list of boys who would like to participate.
After the first "troop meeting" was held with the Jamboree Scouts and their parents, we began accepting applications for the youth leadership positions. The assistant scoutmasters and I conducted interviews from the list of applications and chose our senior patrol leader, ASPL, troop quartermaster, and troop scribe. I have to admit, we did a good job with our appointments. Our junior leaders became a great team to work with.
The troop roster was divided into four patrols of eight Scouts. We made sure that no patrol contained over two Scouts from the same home troop. Once each patrol elected its own patrol leader we had a full patrol leader council and could begin training sessions.
During the next year I attended several meetings a month to prepare for the Jamboree. There was the monthly committee meeting, the monthly leaders' meeting, the troop meetings, training meetings, gateway building sessions, and more. Of course, this was all in addition to my usual duties and meetings in my home troop.
Scouting had begun to take a significant portion of my time through the years 2000 and 2001. But with a great cast of assistant scoutmasters, committee members, and junior leaders in both my home troop and the Jamboree troop, my positions of scoutmaster went smoothly.
In June of 2001 we help our pre-encampment which was basically a practice run for the Jamboree, with training mixed into the weekend. It was our first camp outing as a Jamboree troop. I am happy to report that things went very well. The only real problem to speak of was that we discovered some very loud snorers in the group.
Preparations were over. It was time for Central Minnesota Council Troops 1417 and 1418 to attend the 2001 National Jamboree at Fort A.P. Hill in Virginia!