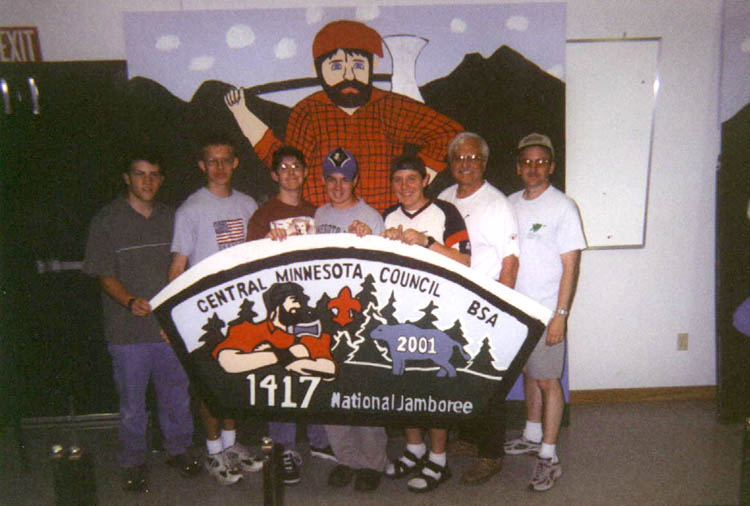 Sue stopped in to see me at my work office. While we were chatting she asked if I had given any thought to going to the 2001 National Jamboree. I told her I had not even thought about it. She explained that she was a member of the council's Jamboree staff and that she thought I should apply to be an adult leader for the Jamboree. She did not give me much time to think about it though. Applications were due at the council office within a couple weeks.
So, I thought about it. Our troop did a high adventure trip every three years. The 2001 Jamboree happened to fall in the right year to be our troop activity. But the big question was whether the Boy Scouts of Troop 68 would want to attend the Jamboree instead of going to Philmont Scout Ranch, our usual destination.
At the next troop meeting I asked the boys if they would be interested in attending the Jamboree. I explained that if they chose the Jamboree then I would apply to be an adult leader for the event. The Scouts thought it sounded like it would be a fun time so I filled out the application.
Our council would send two troops to the Jamboree. Each troop would need four adult leaders, a scoutmaster and three assistants. The third assistant scoutmaster is usually filled by a young adult, usually 18-20 years old, that had previously attended a Jamboree. That left three positions for which I could apply.
After looking over the job descriptions I chose to apply for scoutmaster. The job would be very similar to being the scoutmaster of a regular troop. Besides that, it appeared to be the easiest job of the three open to me. I would just have to make sure that everyone else does their job well.
I turned in my application with only a day or two to spare. A short time later I received a letter asking me to go to St. Cloud for an interview. "An interview?" I thought. I have never done an interview for anything in Scouting in my life. It made me a little nervous.
One of my young assistant scoutmasters, Ben, who also happened to be one of my troop's Eagle Scouts, had applied to be a third assistant scoutmaster for the Jamboree so we carpooled to St. Cloud for our interviews. Ben had attended the 1997 Jamboree as a Boy Scout. The interview was conducted by four or five members of the Jamboree committee. They asked some interesting questions that seemed based on problems during the 1997 Jamboree. I answered them as honestly and as best as I was able.
On the way home Ben and I talked about how we did during our interviews. We both felt we did pretty well. I also asked Ben a few questions about his experience during the previous Jamboree and how well he enjoyed it.
It was not long before we received notice that I would be the scoutmaster for National Jamboree Troop 1417, and that Ben would be my third assistant scoutmaster. Suddenly, I found myself to be the scoutmaster in two troops. Now the work would begin!