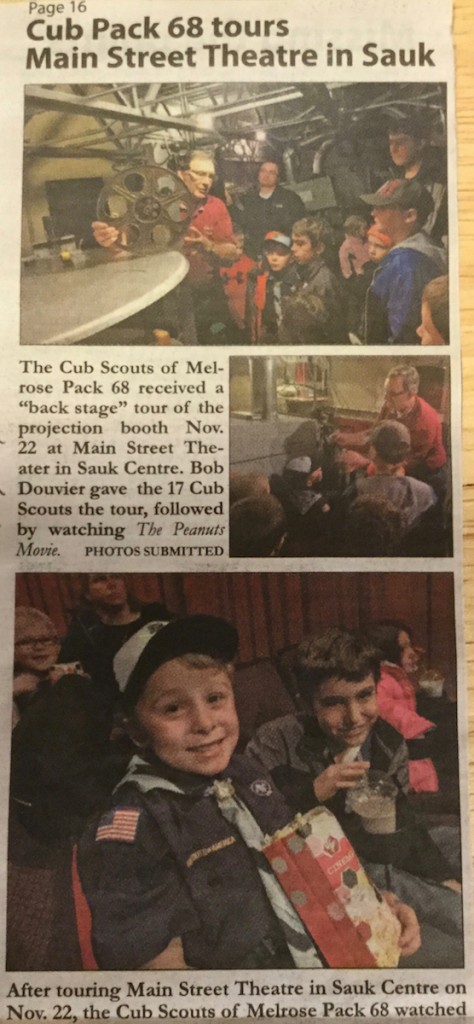 Melrose Cub Scout Pack 68 currently has 18 members from Tiger Cubs through Webelos Scouts. The pack committee has been doing a great job of finding things to keep the Scouts interested in Scouting and things that are fun to do. A case in point was their November outing.
Everyone has been to a movie theater to watch a motion picture. But how many times have you had the chance to get a "backstage" tour of the facility? On Sunday, November 22, seventeen Pack 68 Cub Scouts and their parents had the chance to go upstairs at the Main Street Theater in Sauk Centre and see what goes on in the projection booth. Bob Douvier, owner of the theater, gave the boys and their parents a tour of the room and explanation of how things operate. He even had the old film projector next to the new digital projector so the boys could see the difference in technologies over the last several years.
The Cub Scouts had plenty of questions for Mr. Douvier. A few questions were also asked by the parents. I think everyone had a great time with the short tour, parents included. After the tour the Cub Scouts and their parents watched The Peanuts Movie which was actually quite good.
The photo is of the article that appeared in the Melrose Beacon, our local newspaper.