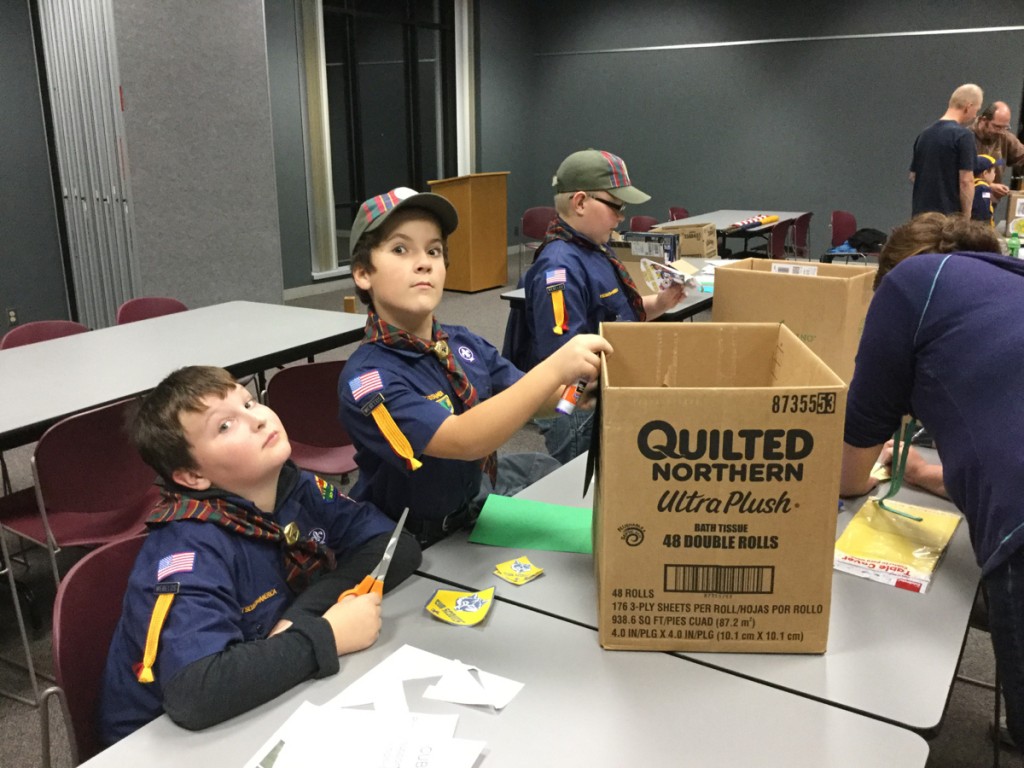 The committee of Melrose Cub Scout Pack 68 would like to see the Scouts earn the Journey To Excellence patch for 2015 so they have been coming up with service projects for the boys. In June the pack did a cleanup project in the city park, picking up trash along the pond and softball field. In November, the pack conducted a food drive.
During their November dens meetings the Cub Scouts decorated cardboard boxes to be placed at businesses throughout a few communities in our school district. The Cub Scouts worked hard to get these boxes ready. Not only did they color and draw on them but they also had some designs printed out on paper that they could cut out and glue to the boxes. I believe each of the four dens made three boxes for the food drive. The parents took the boxes home and were in charge of placing the boxes in businesses and establishments that had agreed to working with the pack for the drive. They would pick up the boxes in two weeks to bring to the pack meeting.
When the pack meeting arrived the Cub Scouts discovered more information about the drive. A representative from the local food shelf was on hand to talk to the Scouts about the food shelf and the local needs. She also answered quite a few questions that the boys came up with. It looked like everyone was having fun and maybe even leaning something at the same time.
As you can see in the picture below, the pack did quite well with the drive. It was a little different than the Scouting For Food drives in the past, but I think the Cub Scouts invested a bit more of themselves in this year's drive.