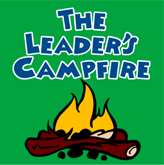 On Wednesday evening, Cubmaster Chris and I did a live recording of The Leaders Campfire podcast. We had never done that before but we had a special reason for doing it. It was time to give away the prizes for the "Scout Camp: The Movie" Twitter contest. Quite a few people joined us in the PTC Media chatroom for the event which made it even more fun. The winners are listed at ptcmedia.net, but I thought I would list them here also:
Scout Camp DVD Winners:
ScouterTom
johneegeek
Taxgeekkm
mbeyke043
Brian Leslie
Scout Camp Poster Winners:
kcwccc
joeparajecki
onlinst
bryanspellman
CD_Ranger
If you are a winner, please e-mail your address to: cubmasterchris@gmail.com
And thanks to Garrett Batty at Scout Camp: The Movie for making a lot of this possible!