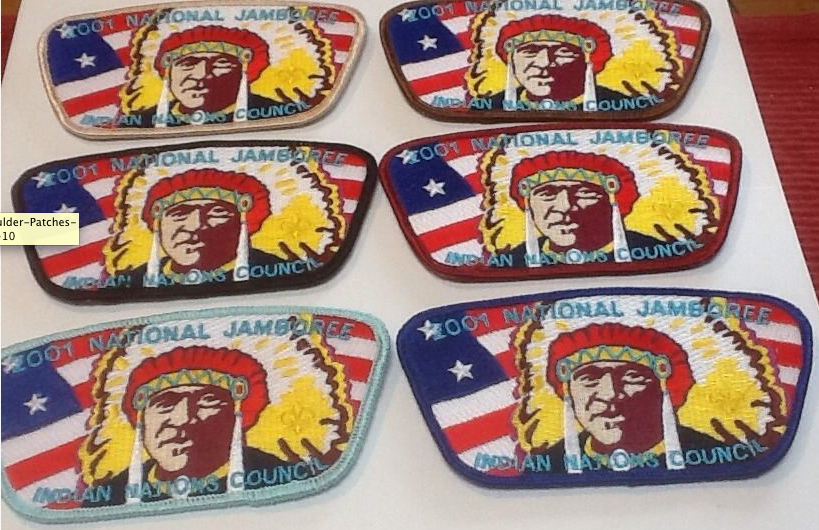 Maybe I should not have done it. After all, it has been 13 years since that event was held. But I had a good time and a great group of Scouts along so I will always remember the 2001 National Jamboree fondly. So, last night I decided to try to expand my collection of patches from the Jamboree. I decided to try my luck on eBay.
When I buy patches for my collection I have a rule I kind of follow: unless it is a very special patch that I really want badly I will only pay up to $5.00 per patch. Of course, this means there are quite a few patches that I will probably never add to my collection because the people selling them price them too high for my budget, like the Marvel hero patches or the dinosaur patches. I also prefer to buy patches as sets or lots. I like sets because I can (maybe) get all the patches from that council in one lump grouping. I like lots because they usually are priced as less than $5.00 per patch, plus I add more patches to the collection quickly.
I bid on or bought patches from four actions last night, and added another four to my eBay watch list. The best of the batch was a ten patch set of Jamboree shoulder patches from Indian Nations Council. It is one of those council sets in which the same patch design was used for all ten troops, with a different border color for each troop, which is actually a popular way to provide different patches for each troop but also keep the cost to a minimum for the participating Boy Scouts. (The picture only shows six of them.)
The other auctions include council shoulder patches from the West Central Florida Council, the Blue Ridge Council, and the Crater Lake Council, and a two patch set of Order of the Arrow patches from the Sakuwit Lodge. The auction description stated this lodge does not exist anymore. This lodge was located in the Central New Jersey Council which was dissolved in February 2014. I look forward to adding this set to my collection since they have now become a part of Scouting history.
This will add 15 patches to my 2001 National Jamboree collection. These patches will force me to start a second three ring binder. I will probably put council shoulder patches in one book and OA patch sets in the other. I may need to order the few more pages in which to place the patches. I will worry about that after I receive the patches.