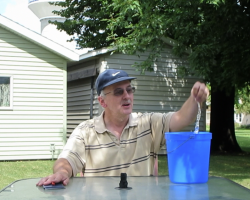 I am sure you have all seen it online, on one social site or another. One person challenges another to donate to the ALS foundation and/or pour a bucket of ice water over their head. It is currently quite popular, and at the time I write this the organization has received over $70 million dollars from nearly two million donors in only 27 days. Not a bad fundraiser.
I have watched videos of people I know on Facebook accepting the challenge. Videos of friends I know, relatives, and even former Boy Scout Troop 68 members. No one has named me to the challenge. Until today. Nathan Blommel, an alumni of Troop 68, and a former tennis and racquetball buddy, decided to include me in his challenge.
I do not do well with cold. I seldom went swimming with the troop unless it was a very hot day and the water was fairly warm. I did not do very much winter camping when I was a scoutmaster. My body temperature drops quickly and I start shivering uncontrollably. It is not a very pleasant experience. I can easily see myself turning into one of those Minnesota winter snowbirds, who travel to the warm southern states, once I retire.
But a challenge is a challenge, and needs to have a response, so here is the video for you all to see.
https://www.youtube.com/watch?v=xUWJ6GRm85Y&feature=youtu.be