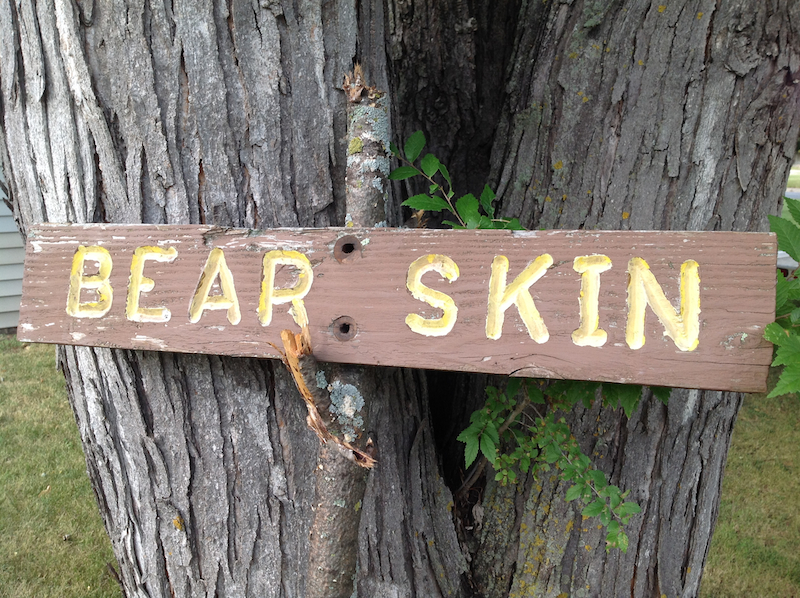 What do you think of when you hear the words "bear skin"? Is your first thought a bear skin rug? Maybe a sporting game between the Bears and the Redskins? Maybe a sunburn after sitting with bare skin in the sun too long? One of the things I think of is summer camp. It was the name of the campsite my troop used for two years when I attended camp as a youth.
I attended Parker Scout Reservation of the Central Minnesota Council for three years during the mid-1970's. It is a small camp by some summer camp standards, but it was the home of Troop 68 and other troops for a week of fun and excitement. In its earlier days it was called Camp Clyde. These days it is sometimes called Camp Parker. It closed as a summer camp in the late 1970's but is still used as a weekend camp for council Boy Scout and Cub Scout activities. Troop 68 has used the camp on several occasions over the years for their own weekend activities.
The council has done several major renovations and additions to Camp Parker during the last few decades. The old dining hall was completely renovated and an addition was built onto it. A storage building was added next to it at the same time. A new shower house was constructed back in the nineties. Several older buildings have been remodeled with new heating systems installed. The biggest addition to Camp Parker took place when the castle was built. Yes, you read that correctly. A castle. (Pictures of the castle can be seen at http://www.bsacmc.org/photo_gallery_miller_castle.html .)
A few months ago I received a phone call at work asking if the lumber yard would like to donate some cedar lumber so new signs could be built for the campsites. The signs were getting pretty run down and looked rather shoddy. I did not even give my boss a chance to reply to the request. I used this as a chance for myself to give back a little to the place I have been going to for four decades. I donated the materials.
But I had one request. I wanted the old campsite sign of the camp I stayed in as a young Boy Scout. I wanted the old Bear Skin sign. I was told that should not be a problem and that they would set it aside for me.
That was a couple months ago. Yesterday, when I arrived back home from working at my parents renovation project, I found something placed between my front door and combination door. Later in the morning my district executive had stopped by my house on his way through town and dropped off the sign. Other than patches and pictures, this is the first item from Camp Parker I have been able to add to my Scouting collection.
The sign was actually in decent shape considering it has weathered several Minnesota winters and summers. I really have no idea how long this sign has marked the campsite. I would doubt it is the same sign that welcomed Boy Scouts in the 1970's, but it is a piece of camp history and I am happy to have it in my collection.
Below you can see a map of Parker Scout Reservation from a camporee probably held in the early 1990's. As you can see, Parker is not a big camp but it really does not matter. I have made a lot of great Scouting memories there.