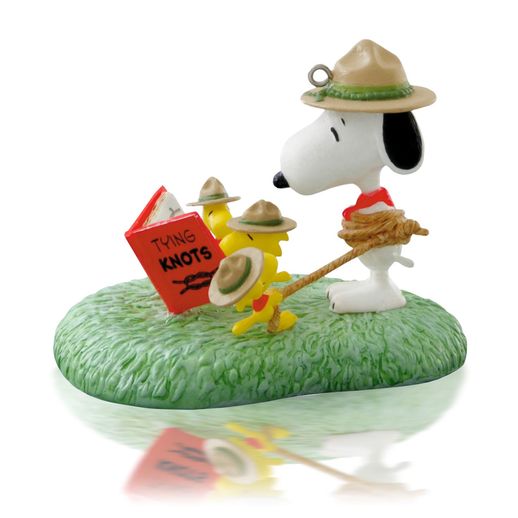 It is that time of year. Hallmark is now selling the new Keepsake Ornaments for this year's Christmas season. That means there should be a new Beagle Scout Snoopy ornament if the company is continuing the series they began several years ago. I was in St. Cloud last Saturday afternoon so I decided to stop in the store and see if there was a new one that I needed to buy. There was!
This year's ornament is called "learning The Ropes". According to the Hallmark web page, "Square knots, slip knots,…the Beagle Scouts have Snoopy tied up in knots. They're not trying to be "knotty," though, they're just learning the ropes! This ornament would be great for a Peanuts® fan, or anyone who has experience with Scouting." The size of the piece is only 2.58″ W x 2.09″ H x 1.83″ D, which I believe is a bit smaller than previous year's ornaments. The price is $14.95. I believe they are for sale in the stores only, and not available online.
I picked up two them. One to use on the tree and one to keep as part of my collection. I have done the same with each year's piece. I am thinking I may have to set up a tree this Christmas season, put all eight of my Beagle Scout Snoopy ornaments on it, take a picture of it, and post it to this blog again to see if you can find them all.
The store also had several 2013 Lego Yoda ornaments on sale for 80% off. I picked up a three of those since they were less then $4.00 each. I may place one in the tree with the Snoopy ornaments just to mess you up a bit in this year's tree picture. The others may end up as presents for someone this holiday season.
Here is the Hallmark website page if you want to check out this year's Beagle Scout Snoopy ornament: http://shop.hallmark.com/christmas/christmas-ornaments/learning-the-ropes-1495QXI2556.html#prefn1=characters&prefv1=Peanuts®&start=1