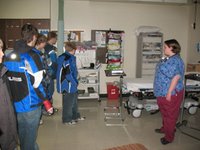 Last year, during one of our Boy Scout troop meetings, the whole troop ended up in the emergency room of our local hospital. Oh, don't worry. There were no serious injuries. Our theme for the month was first aid so our committee chairperson set up a tour of the hospital's emergency room and facilities.
Melrose is a community of 3300 people, but we have a very well staffed hospital. Our emergency room is not as big and chaotic as the one in the television show, or as a big city hospital would be. Our E.R. only has three beds but is fully equipped to handle most emergencies, from heart attacks to car crashes. Luckily for the troop, it was not being used while we were there for our visit.
The nurse was a great tour guide. She was very patient with the Scouts and answered all their questions very professionally. I think there were a couple of times a few of the boys were being grossed out, but you know teenage boys. They like being grossed out.
The nurse began our tour in the entry/garage for the ambulance. Almost immediately, the boys started asking questions. "Has anyone ever died in here?" The nurse told us that sometimes people die on the way to the hospital while being transported by the ambulance, and sometimes they may die in the hospital.
The emergency room was out next stop. The nurse explained the uses for the many pieces of equipment found in the room. The boys were very interested in the "shockers" that are used on some heart attack patients. They were surprised to see the drills and other equipment used to puncture hip and shoulder bones. The various kinds of I.V.'s and fluids also caught their interest.
The nurse lead the troop to the surgery room. Due to the sterile environment needed in there we did not actually get to enter the room, but we were able to look through the door windows into the staff prep room. Once again, the nurse gave a nice but brief summary of the things that happen in the area.
The tour lasted a bit over thirty minutes which was just enough time to give everyone a basic understanding of the E.R. and still have enough time to return to our meeting location (the school gym) and play a game, have a quick patrol meeting, and have our closing.
The troop thanks the staff of the Melrose Centracare Hospital for allowing us to tour their facility.