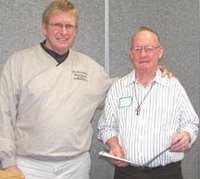 Eymard Orth, assistant scoutmaster of Boy Scout Troop 68 in Melrose Minnesota, was recently recognized by the Minnesota House for his twenty years of service to the troop. The local newspaper, the Melrose Beacon Beacon, reports:
"State Rep. Paul Anderson (left), R-Starbuck, presents Eymard Orth, Melrose, with a certificate of recognition for Orth's 20 years of service to Melrose Boy Scout Troop 68. Orth is assistant scoutmaster of Troop 68 and received the recognition during the recent Stearns County Republican Convention in Melrose."
Congratulations Eymard!
(Note: The picture is from the Melrose Beacon. The article can be seen HERE.)