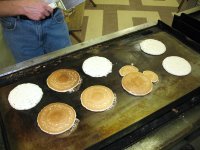 Another Boy Scout Troop 68 spring breakfast fundraiser has come and gone. The troop has held a spring and a fall breakfast for over 20 years. The two breakfasts are the main source of income for our operating funds and individual Scout credit accounts.
The key to having a successful breakfast fundraiser is to presell tickets. We begin this process about three or four weeks before the event. We will take a troop meeting night and send the boys out to cover as much of the town as possible in 90 minutes. We have the city mapped out into ten sections. Parents will choose a section, then drive out with two or three boys. We hope to sell enough tickets during that first night to pay for the breakfast expenses. This was easy to accomplish when we had a troop of over thirty members, but with a current membership of only nine Scouts we did not even sell enough to cover half of the expenses. Thus, it becomes very important for the Scouts and parents to make the effort to sell tickets during the next few weeks.
Of course, we also sell tickets at the door the morning of the breakfast. We charge fifty cents more for a ticket sold at the door then we do for a presold ticket.
It looks like we did better at this spring's breakfast then usual. After adding up our income and estimating our expenses it looks like we will have made a profit of over $1600.00. Most of the success is due to the preselling of tickets. In fact, we had one young Scout who sold over $600 of tickets himself, setting a new troop record.
A breakfast fundraiser is easy to do with a troop of thirty Boy Scouts. Troop 68 currently has only eight active Scouts. I am amazed that we can pull off a successful breakfast with only eight families. It is a great demonstration of the support and dedication of the parents to keep the troop alive. Unfortunately, if the troop gets any smaller we may have to drop this fundraiser because we will not have enough people to work for it.
On a final note, this is the first time ever that I had to stand at the grille and make pancakes. (Since I became the scoutmaster my job has been to collect the money from the Scouts, supervising them as they do they duties, and pouring coffee as people sat down to eat.) By the end of the breakfast I was getting decent at making Mickey Mouse pancakes.