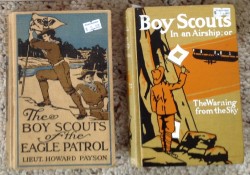 Saturday, May 3rd, was free comic book day so I went to St. Cloud to pick up a few at Granite City Comics. I arrived downtown early to get a good parking spot so I decided to walk around to get some exercise and to see what kind of stores were in downtown St. Cloud these days. After all, I had not been shopping downtown for years. There has been no need for me to go downtown since this was on the east side of town and most of the big stores and shopping malls were on the west side of town, closer to where I live.
While I was walking the streets I noticed that there was a used bookstore a block away from the comic book store. I did not realize there was such a store in the downtown area so I decided I needed to check this place out when I was done at Granite City Comics. And I did.
There were two main types of books I looked for once I arrived at the used book store, science fiction and old Scouting books. I was lucky enough to find two old Boy Scout themed novels written in the early 1900's. Both were in pretty good shape considering that they were over 100 years old. One was The Boy Scouts Of The Eagle Patrol written by Howard Payson, published in 1911. The other was Boy Scouts In An Airship by G. Harvey Ralphson, published in 1912. I was able to pick up the two of them for under twenty dollars.
As I laid them on the counter I thought to myself, I hope I do not already have these books. I could not remember if they were already part of my collection or not. Oh well, if they were I would now have two of them. I could always use one as a prize at a Scout Roundtable or something. I was happy to discover when I arrived at home that I did not own either one yet. I also discovered that I have the ebook version of The Boy Scouts Of The Eagle Patrol on my computer.
Do you collect old Boy Scout novels? How many do you have? Where do you find them?