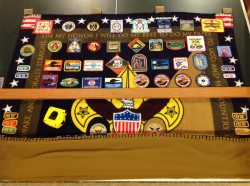 It is only five more weeks until Boy Scout Troops and Cub Scout Packs around the country celebrate B.S.A. Scout Anniversary Week. Local units will be setting up displays in their communities to promote their Scout programs. We will probably be doing the same here in Melrose. We have four businesses in town that allow us to set up displays. Soon it will be time to plan what will be on the tables in each establishment. (Check out our 2012 displays at http://www.melrosetroop68.org/blog/?p=2892 )
If you have been following this blog you know that I completed my first Scouting patch blanket a month or so ago. It took several months for me to finish it but I think it turned out well. I plan to use that blanket as a part of one of the displays this coming year. I think it will attract a fair amount of attention.
I have now been working on the second blanket. This new blanket will hopefully display the rest of my patches (from 1996 to present day). I am also hoping their will be some room left over to apply future patches. At least a couple years worth. I think it will, but I will not be sure until I add a few more rows. If not, well, I guess I may have to start a third blanket.
Back to Scouting anniversary week. I really would like to be able to display both blankets, but that means I will not be able to take several months to complete the new one. In fact, I cannot even take several weeks. I have five weeks left. I guess I will not be able to drag my feet this time. I finished the third row tonight, and laid out the patches for the fourth row. As you can see, this will bring me to the year 2001. I guess you could say I have 14 years worth of patches to apply in a one month period. Lucky for me there are not as many patches in this 14 period as there was in the previous 14 years.