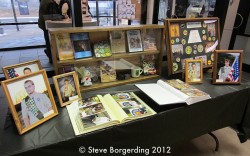 It is that time of year again. Troop 68 has set up four displays about Boy Scouting around town. The displays were set up on Friday, February 3, in time for the 102nd anniversary of the Boy Scouts of America. They will be taken down later this week.
The displays were placed at the Central Minnesota Credit Union, the Freeport State Bank, U.S. Bank, and the Melrose City Hall. Each of the displays is based on a different them, such as high adventure or community service. Each fits on top of a six to eight foot long table. All four displays contain photographs, Scouting books, and other memorabilia that I have collected during the last three decades.
I would like thank these four institutions for allowing the troop to set up again this year. All of them have allowed us to do this for many years. I would also like to thank the Boy Scouts, parents, and friends who assisted in planning and setting up the displays. Without their help the displays would not have been set up around the community.
Does your Boy Scout troop or Cub Scout pack do anything to promote the Scouting program during February? Tell us about it by leaving a comment.