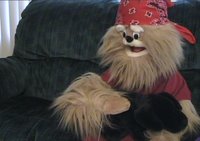 It has been over three months since we have last seen them on the Melrose Scouting Productions Podcast, but they are finally back. Buttons, and his friends Randall and Bones, return for what is the last of the trilogy of bad jokes. That's right, no more bad jokes to be told by Buttons to his laid back friend, Randall.
With each of the three shows, I have tried to find something for Randall to be doing as he gets interrupted by Buttons. In the first video Randall was reading a book. In the second he was listening to his music. In this new video Randall has a new puppy that he has named Dragon. We had a lot of fun filming Randall with the puppy (yeah, it is a stuffed toy dog.) For some reason we kept falling into fits of laughter. Randall looked too real as he was petting the dog. I think the video footage looks pretty good, but I would like to hear what you think.
As the new year gets underway, plans are for Buttons to return doing more Scouting themed videos. I want like him to go back to the Scout Oath and Law and explain what the different points mean in his own unique manner. I would also like to find a few more people for Buttons to interview. It might be fun to film him with a group of Cub Scouts.
Click here to DOWNLOAD this Podcast
Subscribe to Melrose Scouting Productions Podcast through iTunes.
or at http://feeds2.feedburner.com/melrosescoutingproductions
Check out other Scouting podcasts at PTC Media.
Please leave a comment using the link below, at the iTunes Music Store (were we could really use some more reviews), or at the PTC Media forums. Drop me an email at webmaster@melrosetroop68.org. It is great to hear what you think about these podcast videos.