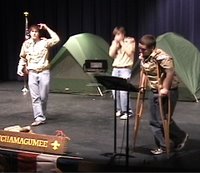 I am sure that you have heard the story and sang about Little Bunny Foo Foo at some point in your time involved in Scouting. You may have even lead the song during a campfire or pack program. Cub Scouts love the song. Boy Scouts think it is cutesy. And adults groan at the punchline. But everyone agrees it is a classic song for a Scouting event.
Now what happens to our bunny friend when some Boy Scouts decide to update his story? They give the song a harder beat. And they perform it in a (gasp!) rapping style. The result is a slightly new version of the song with a touch of comedy thrown in for good measure. The words are unchanged, but the melody may never be the same again. Be warned, this version may stick with you a while after watching it.
Click here to DOWNLOAD this Podcast
Subscribe to Melrose Scouting Productions Podcast through iTunes.
or at http://feeds2.feedburner.com/melrosescoutingproductions
Check out other Scouting podcasts at PTC Media.
Please leave a comment using the link below, at the iTunes Music Store (were we could really use some more reviews), or at the PTC Media forums. Drop me an email at webmaster@melrosetroop68.org. It is great to hear what you think about these podcast videos.