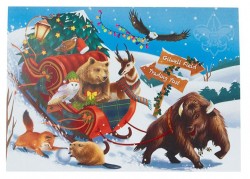 Yes, I know it is not even Halloween yet, but Christmas commercials are already on television and the stores have already begun decorating for the season, so I thought now would be a great time to tell those of you who have completed their Wood Badge training to check out the scoutstuff.org website for this year's Wood Badge themed Christmas cards. That is correct. There is now a Christmas card featuring all our Wood Badge animal pals as they try to help pull Santa's toy filled sleigh.
Well, except for the beaver and the fox, who have decided that a snowball is much more fun then helping to spread the joy of Christmas. The owl almost seem poised to join them. And why is the bear riding in the sleigh? Should he not be helping the buffalo to pull it? For some reason the antelope thinks this is funny. At least the eagle is bringing the lights to brighten the way. The bobwhite is were he should be, overlooking everything and trying to be in charge. Note that I said trying.
By the way, in case you have not figured it out yet, I am a member of the Bobwhite Patrol. NC-269.
You can order the Christmas cards at http://www.scoutstuff.org/set-card-wb-10pk.html