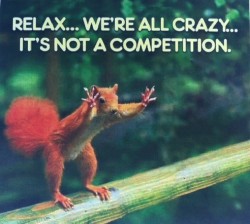 I saw this picture online and it brought a huge smile to my face. I could not help but picture a Scout Leader standing up in front of a council or district training session and yelling this to all the attendants.
Just think of this for a moment. It has to be true, doesn't it? Don't you have to be a little crazy to sit there in a room full of teenage boys, trying to steer them into learning constructive life skills? Or a cubmaster trying to keep a few dozen elementary age boys' attention long enough to conduct an award ceremony? Or a scoutmaster taking 15 boys who are not his own into the wilderness for a camping trip? Don't you have to be a little crazy to do these things, and so much more?
Well, maybe a little bit. But you also have to believe in the program and be willing to back it up 100 percent or more. More importantly, you have to believe in the boys and imagine what they are capable of becoming as they grow into adult men and future leaders of our communities, and even our country.
Yes, we Scouters are a little crazy, and though it may not be a competition, it is a worthwhile program to belong to.