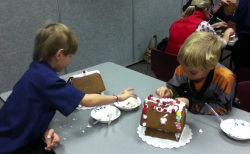 Here it is, the last post to the Melrose Scout Productions Podcast for the year of 2012. The goal has always been to post at least one video each month, or at least twelve per year. This podcast will keep that twelve per year goal.
When the Cub Scouts of Melrose Pack 68 met for their December pack meeting, they knew it was going to be fun. The parents knew it could get a bit messy. The cubmaster knew he had a lot of baking to do. The Cub Scouts, along with help from their parents, were going to make gingerbread houses and decorate them with lots of candies, crackers, and other building accessories. Each one ended up being a masterpiece, but a couple of them did not make it home in one piece. I think they could have used a little more mortar (frosting) to hold them together.
This video post to the Melrose Scout Productions Podcast includes video of the boys and their parents creating the houses and photos of the Cub Scouts with their finished projects. It is eight minutes long. I hope you enjoy it. Maybe this would be a good project for your Cub Scout Pack next Christmas.
Click here to DOWNLOAD and watch this Podcast.
Watch it online at the Melrose Scout Productions Podcast channel at PTC Media.
Subscribe to Melrose Scout Productions Podcast through iTUNES  (and rate the show)
or at http://feeds2.feedburner.com/melrosescoutingproductions
Don't forget to leave a comment here, at iTunes, or on the forums at PTC Media.