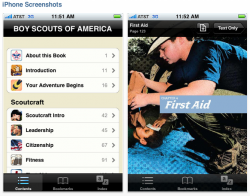 Last month I finally broke down and bought an iPad (the newest version). I have been having fun with it. It looks great and works well. I have to admit, playing Angry Birds on an iPad is a lot more fun then playing on an iPod Touch. I have downloaded dozens of books that are in the public domain, especially all the fictional novels I can find written about Boy Scouting during the early years of the movement. Most of the stories about Pee Wee Harris, Roy Blakely, and Tom Slade are waiting on my iPad's hard drive waiting to be read.
I have also downloaded a couple of Scouting related apps.The first one was MyBadges, written by Kevin Butler. It is an app which quickly puts the requirements for Boy Scout ranks, merit badges, and other awards on the screen. I have used this app while sitting on a board of review and found it to be quite handy, although one Boy Scout may not agree with me since I found a current requirement that was not listed in his handbook which was about 5 years old. Kevin has been doing a pretty good job of keeping his app current with the latest BSA handbook.
Which brings me to a problem I found. I was going to download the Boy Scouts of America app of The Boy Scout Handbook. After all, I am still involved with Scouting and thought it should be on my new gizmo. I went to the App Store to download it and stopped dead in my tracks. I have not purchased it, and will not purchase it. Here are the reasons why…
First of all, The B.S.A. has not updated the Handbook App since November 7, 2009. Yes, you read that correctly. 2009! For an organization that wants its members and volunteers to stay up to date they have really dropped the ball here. Heck, they come out with a new printed handbook every year. Why should I pay $9.99 to download a handbook that does not even contain the latest requirements for ranks and training?
And the price of $9.99, which just happens to be the same price as a physical handbook, but yet does not let me (or a Boy Scout) write in it and keep track of things like we can in a real physical copy? I think the price should be a couple bucks cheaper but I think I understand the reasoning behind it. After all, I was going to buy it until I started looking closer at it.
Third, the app is only available as an iPhone App. Really? Come on B.S.A., get with the program. Over 50 million of these devices have been sold. I am sure I am not the only Boy Scout volunteer that owns an iPad. I had thought the B.SA. was trying to be more modern and catch up to current technology. It seems to me they have been dropping the ball in a major way with this app.
Fourth. And speaking of dropping the ball, have you read the reviews about the latest version of the e-hanbook? (Which, keep in mind, came out in 2009.) They are not glowing, I can tell you that. The main gripe seems to be that it is not much more then a pdf version of the handbook. Excuse me national office, but if I am going to pay for an ebook, I would like it to be an ebook with at least a fair amount of accessible features. The book should be interactive, like the B.SA. says a Scouting program should be for its boy members.
So, I will not be purchasing the B.SA.'s Boy Scout Handbook app. At least not yet. I would like to, but the national office needs to work on this program and at least update it, if nothing else. Or could it be that this app is not a big enough seller for the B.SA. to care about? That would be a shame.
I would be interested on hearing from you if you use the Boy Scout Handbook app. Do you think it is useful? What is your general impression of it. Write a comment and share your user experience with us.