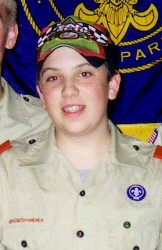 I received some very sorrowful news tonight. Melrose Boy Scout Troop 68 has lost one of its members (alumni) last weekend. David Ostendorf died in a plane crash in California. He was 24.
Dave was a Cub Scout of Pack 68 and graduated to the Boy Scout troop in March 1999. He and his Webelos den formed a new patrol and called themselves the Hazardous Hawks. He attended numerous troop outings and camping trips, including week long stays at Many Point Scout Camp. As he grew older he enjoyed assisting at the yearly council Webelos Woods training, teaching the young Scouts about knife safety. He earned the Star Rank before leaving the troop in 2004.
David was born on April 1st, 1988. His parents own the local bakery. He has two sisters and a brother, Brad, who was also a Boy Scout. David was living in California where he worked as an air traffic controller for the Federal Aviation Administration.
Dave was a good Scout and a great personal friend. He will be missed by me, his family, and all that knew him.