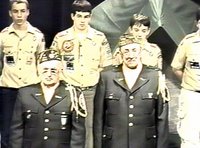 We are now half way through the month of June. Summer is nearly one third gone. Families are going on vacations. Cities are having their summer celebrations. And Independence Day will soon be here! What a better way to honor the summer's biggest holiday then to post a video of the Boy Scout Troop honoring our veterans who have served our country.
The 2002 Laughs For Lunch Show was held four months after the tragedy of 9/11. Patriotism was high in this country as we pulled together to pay our respects to those who died, and to those who became heroes. The Boy Scouts of Troop 68 wanted to end this show by doing something special to honor those local men and women who have served, and are serving, in our armed forces.
A few phone calls were made to the VFW Post (the troop's sponsor) and the American Legion. We were able to borrow ten flags from the VFW for the song. Two alumni of Troop 68 had recently joined the Minnesota National Guard and agreed to participate. Several members of VFW Post 7050 also agreed to participate. We were set.
Unfortunately, we did not have time to practice with everyone before the show, so I was "directing" everyone from behind the stage. The timing may not have been quite perfect, but it did have the effect that we were looking for. It turned out to be a nice way for the troop to close the show and pay our respects to those who serve this country.
Watch this video post of Melrose Scouting Productions, and then leave a comment if your troop has done anything similar to this. Let's share our ideas on how our troops and packs show their appreciation.
You can leave a note below, or at the PTC media forums.
If you leave a comment at the iTunes Music Store you will help the Melrose Scouting Productions Podcast climb higher in the ratings.
Click here to DOWNLOAD this Podcast
Subscribe to Melrose Scouting Productions Podcast through iTunes.