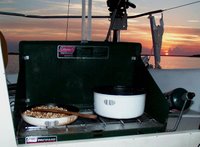 Boy Scout Troop 68's theme for the month of June is Cooking. Each troop meeting will cover a different area of cooking and give the Scouts a chance to sharpen their cooking skills a little. During the first meeting we will do breakfasts, the next will be desserts, and the last will be suppers. Of course, everyone is looking forward to desserts.
The troop usually meets at one of the city parks during the summer months, but this month we will meet in my backyard. The troop's storage shed sits next to my garage so it is easier holding the meeting here instead of loading up all the gear needed and bringing it to the park. Much easier to put everything away also.
It was thirty minutes before the first meeting of the month during which the Scouts would be making pancakes and omelettes. As I began to take the gear from the shed it began to lightly rain. "Oh well," I though, "I guess I will have to set up the stoves in the garage."
The light rain continued throughout the meeting but the Boy Scouts did not seem to mind. After opening the meeting with the Pledge of Alligience and the Scout Oath, and a brief intro about cooking today's items, they began having fun cooking an evening breakfast, and then eating their creations. They could have cared less that they were in a garage.
They tried various ingredients in their omelettes. They tried making pancake batter at different consistencies. They discovered thick pancake batter is as challenging to fry as batter that is too thin.
As the last scrambled pancake was scraped out of the frying pan, the dishes and stoves were cleaned and stored away in the shed, and the floor was swept. Then it was into the basement of the house for game time which included card games, darts, and ping pong.
As the meeting came to a close we discussed the June calendar, this month's camping trip to Duluth, and the upcoming court of honor. The Scouts ended the meeting with the America Yell, and then the parents arrived to take them home.
It was great watching the boys as they had fun cooking breakfast at 7:00 in the evening. They had a good time trying new foods and working on their skills. I hope on the next camping trip they put those skills to use.
Next week is desserts. I have a feeling the meeting will be even more fun as the boys try making a cake in a dutch oven, and a pie, and a cheese cake. My mouth is already starting to water.