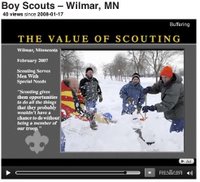 I came across an online video today that surprised me. It is a film about a Boy Scout troop near where I live. The troop is a very special troop, a troop of challenged men. The Boy Scout program gives these men a chance to experience life in a way they probably never would outside of Scouting.
Here is the summary found with the video: Bob Gillis Wilmar, Minnesota February 2007 Scouting Serves Men With Special Needs "Scouting gives them opportunities to do all the things that they probably wouldn't have a chance to do without being a member of our troop."
I invite you to watch the video, rate it, and leave a comment. It can be found at
http://revver.com/video/621428/boy-scouts-wilmar-mn/
This troop really seems to know how to keep the Outing in Scouting, and create a special smile in its participants.