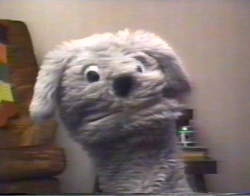 Ever since I was a child I have enjoyed puppets. One year for Christmas my parents gave me a Howdy Doody ventriloquist doll. I was a big fan of the Muppet Show. I enjoy watching Jeff Dunham and his pals.
During the last few years I have made several videos featuring a puppet call Buttons, the radical Boy Scout. Buttons has talked about the Scout Oath, the Scout Law, and being physically fit. He also loves a good joke or two. While there are over a dozen videos featuring Buttons, he is not the first puppet to star in a video of mine.
In the late 1980's, I was taping courts of honor and troop activities for Mel-TV, our local cable access television station. Some of the Boy Scouts would act in a few of the original short films I created. One of those movies was The Puppets Must Die, which involved puppets coming to life to kill people. It was like a Twilight Zone episode. Two Boy Scouts played the main roles in the film. The climax was to be a battle between the good puppet and the evil puppet.
Unfortunately, we were only able to film the first half of the movie before we ran out of time and life got in the way. Only one puppet's scenes were filmed. A third Boy Scout acted as our puppeteer. I thought he did an excellent job of bringing Gruber to life. Some of tricks we learned while filming The Puppets Must Die were later used during the videos featuring Buttons twenty years later.
I recently posted The Puppets Must Die to our troop's website. If you would like to view our first experiment in puppet entertainment check out http://www.melrosetroop68.org/videopuppets.html .
Sorry, but there are no plans to finish this film.