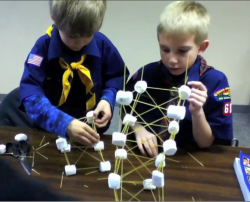 During a pack meeting last spring, the Cub Scouts of Melrose Pack 68, along with their fathers, played with some marshmallows and spaghetti to create towers and things. The boys were actually working on a requirement for one of their awards, but I do not think they realized it. They were having fun, and that was all that mattered. A couple of the Cub Scouts decided to find out how much weight their towers could support. A scale and some rocks were brought out. It surprised the boys and their fathers to see how many rocks the towers could carry. At the end of the meeting, one group of Cubs decided it was time to demolish their tower. It was a great way to end this video of Melrose Scout Productions.
Have you tried this activity in your den or pack? If so, how did the Scouts enjoy it?
Click here to DOWNLOAD and watch this Podcast.
Or watch it online at the Melrose Scout Productions Podcast channel at PTC Media.
Subscribe to Melrose Scout Productions Podcast through iTunes (and rate the show)
or at http://feeds2.feedburner.com/melrosescoutingproductions
Leave feedback here, at iTunes, or on the forums at PTC Media.