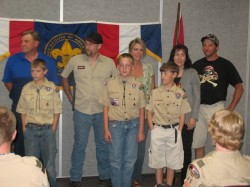 The Boy Scouts of Melrose Troop 68 held their summer court of honor on Monday, June 27th. The recognition ceremony began at 7:00 pm at the Melrose City Hall. All ten members of the troop attended along with many of their family members.
The award presentations began with the Year Pins which are given to Boy Scouts on their yearly anniversary of joining the Scouting program. Noah received his One Year pin. A Five Year pin was presented to Thomas. Dakota received a Seven Year pin. Very few young men stay in Scouting long enough to receive a seven year pin.
Three Boy Scouts received the Tenderfoot rank, which is the first of the six ranks a Scouts may earn, with the rank of Eagle Scout being the highest. Alex, William, and Noah received the Tenderfoot rank with their parents standing proudly by their side.
Troop 68 surprised committee member Chris Massmann with a Community Service Award. Chris began her service to Scouting when her oldest son, Dakota, joined the Melrose Cub Scout Pack. She joined the pack committee and became the pack treasurer. When Dakota graduated into the Boy Scout troop, Chris moved with him and became a member of the troop committee and its treasurer. She has been with the local Scouting program for about ten years. Chris plans to retire from the troop committee in August when her son leaves the troop to attend college.
Congratulations to all the award recipients!