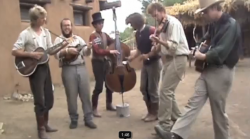 And now, it is time for a little musical number from a place known as Philmont Scout Ranch in a land called New Mexico. Let us watch and listen to a group of minstrels that go by the name of the Rayado Ruffians as they play the little tune, "Cindy".
(This tune was posted to Youtube in 2009 by TheMrRayado.) 696
100 Days of Scouting: Day 71.