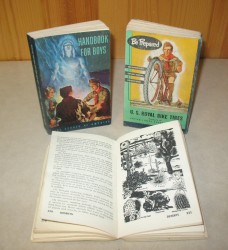 The first thing you notice when you see the Boy Scout handbooks from the 1950's is ghost of the American Indian as he rises above the campfire. This is the fifth edition of the Handbook for Boys. By the time the January 1957 version came out they had been a total of 15, 500,000 handbooks printed. They are still a small encyclopedia of outdoor knowledge. I own a few editions of this version.
This one, like the previous editions, includes advertising on the front and back inside covers, and ads within the index in the back of the book. One thing I like about the book is that it lists the merit badge requirements for all the awards. All the drawings in the book are black and white. There are no photographs. I do like the chapters on Scoutcraft and cooking. They include more information then the current handbooks.
Have you been lucky enough to add a 1950's Handbook to your Scouting memorabilia collection?
100 Days of Scouting: Day 70.