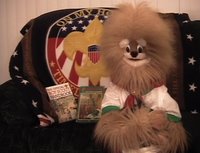 Buttons, the radical Boy Scout, talks about the Outdoor Code in this post to the Melrose Scouting Productions Podcast. Not only does he recite it but he also covers the four "C's" of the code: clean in the outdoors, careful with fire, considerate in the outdoors, and conservation-minded. It is a code that all Cub Scouts and Boy Scouts should follow whenever you are in the great outdoors, like when you are camping or hiking or just having fun.
Buttons would love to hear from you. Please leave a comment to this post, or at the PTC Media forums, which is holding a drawing through the month of February. It would also be great if you left a comment and rate the podcast at the iTunes music store which helps Melrose Scouting Productions Podcast get a higher rating and thus, make it more visible to people who search for Scouting podcasts. You can also leave a comment at Digg.com. Thanks for watching.
Download Podcast
Watch Video on the troop's website.
Subscribe through iTunes.