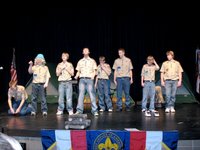 The 2008 Laughs For Lunch Show is now part of history. Once again the Boy Scouts of Troop 68 did a great job of performing skits and songs before a live audience. Approximately 70 people attended the show, including family members, friends, and even Scouts and adult leaders from neighboring communities.
After our final practice Saturday afternoon, the troop gathered at my house for a supper of pizza and sodas before heading back to the school auditorium for the actual show. We even had enough free time to watch about fifteen minutes of Indiana Jones and the Temple of Doom.
While we were in my basement family room eating pizza, I told the boys that I had heard that a Hollywood talent agent, who happened to be in St. Cloud, had heard about our show and was planning to come to Melrose and watch it. Of course, most of the older boys did not believe me, but the younger ones were not sure if I was telling the truth or not. After a few minutes, I confessed that I was kidding.
As people arrived for the show, I noticed that the chairperson for this year's Ripley Rendezvous, a council event held at the Camp Ripley National Guard Base in central Minnesota, had arrived to see the Scouts perform. She had emailed me earlier in the week to ask if the troop would be interested in doing a few skits and songs during the evening program at Ripley. I invited het to attend the show and see if this type of thing was what she was looking for.
So, in a way, a talent scout was sitting in our audience, just not from Hollywood. I did inform the Boy Scouts about our special guest before we started the show, but once the curtains opened I do not think they gave it another thought.
The Ripley chairperson came down to the stage after the show to chat with me. She was very pleased with the Scouts' performance and would like them to be part of the Ripley program. I steered her to our senior patrol leader to discuss the matter with him. I am sure this will be a topic during our next patrol leader council meeting.
It has been a few years since Troop 68 has performed at a council or district event. We do participate in the closing campfire program at summer camp, but the Ripley Rendezvous will have a much larger audience, two to three times that of summer camp, and ten times the size of the Laughs For Lunch crowd.
Will the Boy Scouts be able to handle that? I know they can. A little more practice, along with a little more encouragement, and they will be able to perform for anyone. Even the president of the United States.