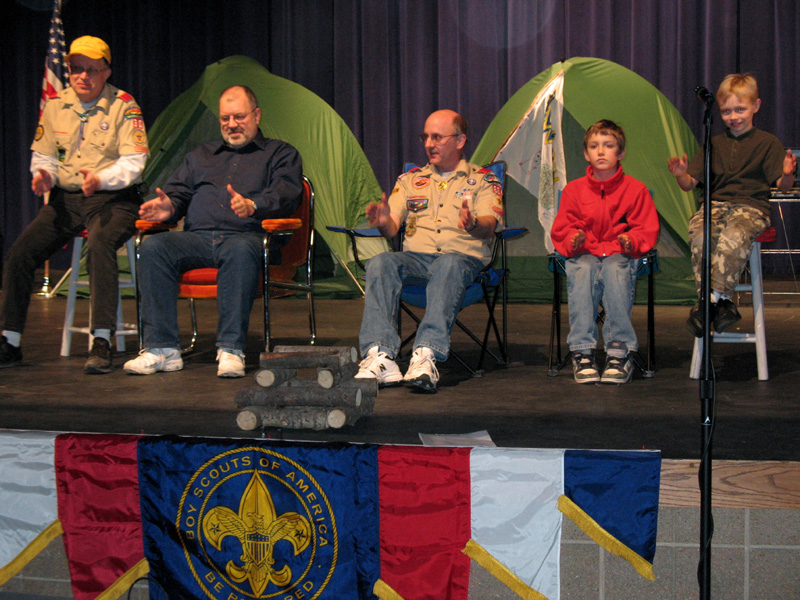 There is less then two weeks left to prepare for this year's Laughs For Lunch Show, a community show put on by the Boy Scouts of Troop 68. (I have discovered that Scouts in some other countries call this type of show a "gang show".) As the scoutmaster of the troop, I find myself in the position of producer and director.
As the producer I work with other people to arrange the facilities, make sure we have the props and gear needed, and get the word out to community. I write the releases for the local newspapers and cable television stations. I also arrange to have the show videotaped to be broadcast over one of the local stations.
My job as the director begins a month before the show when I meet with several Scouts to plan the show's format. The boys will discuss dozens of songs and skits. Then they begin to narrow them down to the ones they think should be in this year's production. Finally, they decide the actual agenda. My job is to keep them moving forward and on track, to answer questions they have, to explain new songs or skits, and get in one or two things I would like to see included. We plan the show similar to the way we plan our yearly program.
As the director, things can get pretty interesting during practices. I have to try to keep the Scouts focused, which is always a challenge with teenagers. I also help the boys understand what needs to be done during the skit. That means I may be on stage acting out a skit or singing a song with the Scouts. I sometimes think the Scouts find me amusing when I am acting out the various roles.
During the show I am backstage making sure the Scouts are ready to go out on stage when they need to. I will also find myself on stage introducing a skit or even performing with the boys. This year I will find myself on stage without the Scouts as I lead the audience in a wild version of the song Vista.
I always enjoy working with the Boy Scouts as we prepare for the show. It is challenging. It can be a little stressful. But overall, it is always fun.