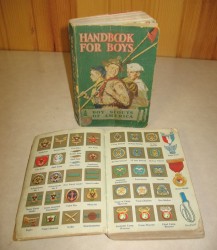 It's Monday! The start of another workweek. The day of blogging about Scouting Memorabilia. This time I go back to the 1940's and the Boy Scout of America handbook. I have been lucky enough to add two of these to my book collection. Both were used by boys when they were a Scout so they do show some wear. To tell the truth, these books are in better shape than some of the current handbooks that boys in my troop use.
Most of this handbook is black and white, but the first dozen pages were done in color. There are several pages of advertising in the back of the book, along with the front and back cover. There are large sections devoted to trees, birds, and weather. There is even a list of United States of America presidents, up to F. D. Roosevelt. The books contains quite a few black and white drawings. It also seems to contain a lot more information than today's handbook. (Maybe boys read more back then?)
Have you been lucky enough to find a 1940's Handbook for your collection?
100 Days of Scouting: Day 35.