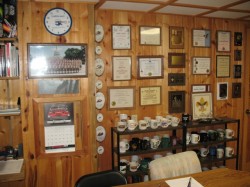 Once you have been a Boy Scout or Cub Scout leader for awhile you may notice something that starts to occur. Slowly and gradually, Scouting begins to take over your house. It may start with a few items in the corner of one room. Soon, that corner is filled, and a gear pile may be found in another room. Collections begin to grow and may need to be displayed. Your garage looses space because troop or pack stuff needs to be stored somewhere. Photographs and videos begin to fill your computer hard drive.
As I was trying to think of something to write about for this post of the 100 Days of Scouting, I just needed to look around the house for inspiration. In the city of Melrose, my house is the House of Scouting. There are pictures of the groups of Scouts who have gone to camp hanging on my stairway wall. Dozens of photo albums fill shelves of a bookcase. My basement rec room showcases my Scouting mugs, books, and awards earned over the years. I have a gallery of Eagle Scout photos hanging next to a 4′ x 4′ sheet of paneling that is full of activity patches. There is a large Norman Rockwell print hanging in the living, and a Scout Camp: The Movie poster, signed by the director Garrett Batty, hanging in my bedroom. The closet in the spare bedroom is full of camping gear. Twelve Norman Rockwell prints hang on my office wall. Dozens of dvd's of troop outings, shows, and courts of honor fill a cabinet.
Then there is the computer. The file of Scouting pictures contains over 33 GB of photos, and it is still growing as I scan old photos. I have over 400 GB of Scouting related videos. These include promotion and training videos by the B.S.A. along with videos and slideshows of Troop 68 activities and Scout members. I am the webmaster for the troop's website. That file contains over 10 GB of stuff.
It took thirty years for Scouting to take over my house to the extent that it has. I am glad that I have not been a Scout leader for 100 years for I would have to be living in a mansion to display everything collected over ten decades. The funny part is, when a new Boy Scout comes to the house for the first time, he is not all that interested in seeing the Scout stuff. He wants to see the Star Wars or the medieval weapons collections.
How has Scouting taken over your house or apartment?