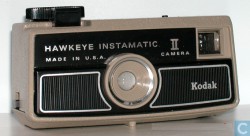 When I was a Boy Scout in the 1970's there was no such thing as a home video recorder, so there was not a Cinematography Merit Badge. There was the Photography Merit Badge, however. I like taking pictures so I thought I would try earning that badge. I grabbed my Kodak Instamatic camera that used 126 film, a merit badge book, and began taking pictures.
One of the requirements for the merit badge was to tell a story with photographs. I decided to do a story of the missing cookie mystery. The members of my troop would be the "actors" of my story. Even my scoutmaster got in on the action. He held sheets of paper with my opening and closing titles. I discovered, after the film was developed, that the writing on the paper was not dark enough and it was difficult to read the titles.
The plot of the story was simple. The troop's snack, a batch of cookies, had disappeared. It was up to the troop members to find them. They began searching the building in which we had our troop meetings. Pictures were taken of my fellow Scouts looking in various nooks and crannies. They finally catch the cookie thieves in a corner of the balcony, eating the evidence.
Unfortunately, I never finished the merit badge. I do not know why not. Maybe I lost interest, or we lost our counselor. All I know is that I still have the photographs of my picture story. Here are the pictures for you to view, in the order they were meant to be used. The photos are thumbnailed. Click on any for a larger view.
100 Days of Scouting: Day #10.