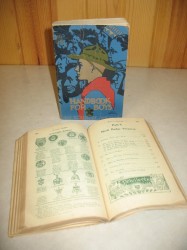 I collect Boy Scout handbooks. I started collecting them shortly after I became a scoutmaster. I would check out any used bookstores that I would come across to find any Scouting themed books; handbooks, history books about Scouting, fictional novels. I have a decent collection. I have noticed that books in the used bookstores have gone up in price, dramatically at times, so I would guess that more people have been collecting them also. The last few books I added to my shelves have come from eBay.
The oldest Boy Scout Handbooks in my collection are from 1932. I was lucky enough to find two of them over the years. Both are in pretty good condition. Both have writing in them from the boys who once used the books. It is fun to look through them and see how Scouting has changed over the years, especially the advancement program. It is also interesting to how the Scouting program has not changed. Outdoor program, character building, and values are still an important part of the program. The more things change, the more the stay the same.
Do you collect handbooks? What is the oldest one in your collection?