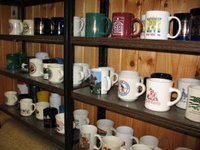 Since I was a youngster I have liked collecting things. I probably started with collecting rocks and bugs. As I entered my teen years I collected stamps and baseball cards. When a movie called Star Wars hit the theaters in 1977 I began collecting Star Wars toys. I no longer have the rocks and bugs. I still have the stamps and cards, although I have not done anything with them for years. I finally stopped collecting Star Wars toys this year when I finally ran out of room in the house.
It did not take long after becoming an adult leader in Boy Scouting that the various Scout-related collections began. I have already told you about the patch collection. This time I would like to tell you about a collection I really never intended to start – the coffee mugs.
First of all, let me state that I do not drink coffee. I do not care for the taste of it. I know that puts me in a minority among Scout leaders. I do not need that cup of java in the morning to get me going. So why do I collect coffee mugs when I have no intention of ever using them?
I do not remember how the first mugs arrived in my hands. Many of the early mugs were given to me as gifts. These gifts began to accumulate. And then, every once in a while when I was attending a Scout function, I saw a mug that grabbed my attention. Soon, I had a collection of the things.
Today, that collection includes over sixty coffee mugs. Some are from council events. Some are from fundraising projects. A few are from high adventure bases. A couple are general Scouting themed. Sixty mugs may be smaller then some leader's collections, but I know it is larger then most people's.
I still do not go out of my way to collect the mugs, but if I come across one that catches my attention it may find itself sitting on the shelf with the rest of them. The mugs take up a lot more room in the house then the patches do so I have to limit myself with what I buy. I have discovered that mugs do not flatten very well when you try to place them into notebooks.
The mugs are on display in my recreation room, which is also the "Scout" room. Every time I dust them (which is not as often as I should), I think to myself that I really should donate these to the local historical society. But after they are cleaned and repositioned I decide I will keep them a little longer.
The shelves are almost full now, which means the collection will have to come to an end. Unfortunately, knowing me as I do, once I start collecting the mugs I will find something else to begin collecting. (When I quit collecting the Star Wars toys I began collecting medieval weapons.)