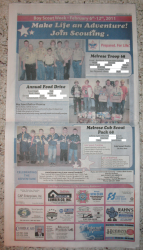 The Melrose Beacon, our local weekly newspaper, arrived in the mail today. I was pleasantly surprised to see a full page "ad" celebrating the anniversary of the Boy Scouts of America, along with pictures of the Melrose troop and pack. The spread included The Boy Scout Oath, the Cub Scout Promise, and the Law of The Pack. Information about our council and hot to join a pack or troop was also covered.
The Melrose Beacon was recently purchased by the same group that owns a local weekly newspaper in Sauk Centre, our neighboring city to the west. The Sauk Centre Herald has included a two page ad featuring the local troops and packs (including Melrose) for the last few years. This year our troop and pack were featured in our own community newspaper.
Boy Scout Troop 68 and Cub Scout Pack 68 would like to thank the Melrose Beacon and the local businesses who supported this week's full page feature. The businesses were CAP Enterprises, Kraemer Lumber, Melrose VFW Club, Freeport State Bank, Stearns Electric Association, Loren Pundsack Collision Center, Spaeth Sodding and Nursery, Rahn's Oil and Propane, Catholic Aid Association, Melrose Pharmacy, Diversicom, and Hennen Lumber Company.
Isn't this a great story for 100 Days Of Scouting, Day 2?
Click on the picture to see a larger picture of the ad. The boys names have been removed in keeping with the B.S.A.'s Youth Protection policy.