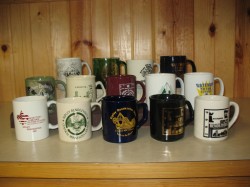 Most Scouters enjoy their cup of coffee in the morning. I never started drinking coffee. Hot chocolate was more my thing. I do, like many Scout Leaders, have a collection of Scouting themed coffee mugs. It seems that every Scout Leader I know has a collection of Scouting mugs. I think there may be an unwritten rule about that.
For Memorabilia Monday, I thought I would share a portion of my mug collection with you. For many years, the Central Minnesota Council and the Camp Ripley National Guard Base have worked together to create a fun filled weekend for the Boy Scout troops of our council. Most years it is just our council, but every fourth year it becomes a state-wide event in which five (I think) councils participate. It seems that at every Ripley Rendezvous there is a new souvenir coffee mug to buy. I alway get one, of course. There are now thirteen Ripley themed coffee mugs in my collection. There would be a few more but our troop did not attend a few years.
Do you have any themed coffee mugs as part of your Scouting memorabilia collection?