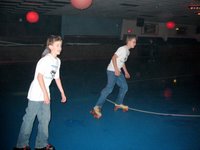 Last week the Boy Scouts of Troop 68 held their monthly activity which happened to be the LPMRB. What is that, you ask? Long day of Pizza, Movie, Rollerskating, and Bowling. It is basically a twelve hour activity that has been a popular troop activity for many years. (The L of the LPMRB was originally for Laser tag, but the BSA does not want Scouts playing that game any more.)
The activity begins at 12:30, Saturday afternoon, when the Scouts gather at my place. We then drive to the Skatin' Place in St. Cloud, about 35 miles from Melrose. The troop rollerskates, or inline skates, for about three and one half hours, also playing the occasional arcade game. There were not many people at the rink this year. There were times when the Scouts were the only people skating, which in a way was nice since we did not have to skate around other skaters.
Godfather's Pizza was the next stop on the list of places to go. This year we only needed to buy three large pizzas to fill the bellies of the nine boys and two adults. We had a little time to kill after eating so we did a little shopping at a dollar store and browsing through a skateboard and snowboard store.
When we arrived at the movie theater complex it did not take long to decide on a movie. Over half of the eighteen movies showing were R rated. Most of the PG-13 movies were not suitable for the age group of our Scouts. We ended up watching Dan In Real Life which was a pretty good movie. Even the younger Scouts enjoyed it.
We arrived back in Melrose with over an hour to to kill before our session of bowling would begin at 11:30 pm. I thought the boys would play table tennis, darts, or boards in my basement but we all ended up in my living room watching a dvd of Weird Al music videos.
I was getting tired by the time we arrived at the bowling alley. I quickly discovered that my bowling skills had deteriorated since last year's event. Either I have to spend less time playing Wii bowling, or more time actually throwing a bowling ball. By 1:30 in the morning the last parent had arrived to pick up their son. The boys had gone home. I was ready for a good night's sleep.
Yes, the LPMRB makes for one long day but the Scouts really enjoy it. Maybe this event does not fit the usually outdoorsy type of Scouting activity, but the boys have a great time with each other and enjoy the camaraderie. Once in awhile you just have to leave the tents and knots behind and do something different.