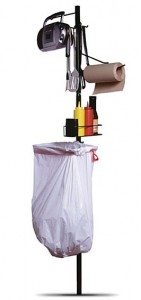 As scoutmaster I always keep an eye open for the latest camp gadgets. I usually only buy gadgets that I think I would actually use, but once in awhile I will buy something because it has the "cool" factor. Unfortunately, I now own so many gadgets that more stay at home in the garage then go along on a camping trip. But that does not stop me from looking for something new.
This month I added the Kamp Kadi by Nebo to my collection. I was able to buy it at less then half the MSP retail price. It was cheap enough that I thought it was worth giving it a try on the next Boy Scout troop camping trip.
This gadget is basically a simple camp kitchen organizer. Everything fits on a single metal pole that can be stuck in the ground or attached to the end of a picnic table. It comes with a bag to for storage. This is for drive-up camping. It is too heavy for a backpacking trip.
While it is not the most elegant looking of camp gadgets, it does appear to be very functional. The two things that first caught my eye were the trash bag and paper towel holders. I am hoping this will create a more "user friendly" environment so the Boy Scouts keep a cleaner cooking area. The shelf and utensil hooks are a bonus to me. (I think we will find something other than a radio to hang on the other bar.)
Will this Kamp Kadi be worth my investment? We will find out in the spring when the troop begins its camping season again.
Does your troop use the Kamp Kadi or something similar? Leave a comment on how it has worked for your troop.