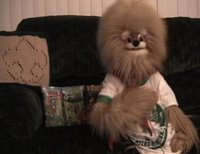 The parents, Cub Scouts, and new members of Cub Pack 68 received a surprise during "School Night to Join Scouting" on Tuesday, September 25, when Buttons, the radical Boy Scout, stopped by for a surprise visit. The boys eyes went wide and the grins reached from ear to ear as Buttons introduced himself to the pack. A few of the Cubs already knew Buttons from watching his videos on Youtube and the troop's website, but for the other boys it was the first time seeing the radical puppet.
I decided to bring Buttons to the meeting as I was gathering materials to take along to the school night meeting. I was a little nervous about how the puppet would be received by the boys and parents. It is one thing to make a video of the puppet in my home. It is quite different bringing him before a live audience. Would the boys and the families accept Buttons? Or would they ignore him? It was time to find out.
I did not create a "stage show" for Buttons. Instead, I walked around the room with him, going from table to table, talking to the kids, giving high fives, avoiding being punched, and trading a few hugs. Before I knew it there were a dozen kids following Buttons around the room.
Just before the actual meeting began the boys were given the opportunity to have their picture taken with the radical dude. I offered to post the pictures on the troop's website if the parents were okay with that. They were. The pictures can be seen HERE.
Now that I know Buttons is accepted by the Cub Scouts, I may have to plan another visit or two to the pack during the next year. Who knows. There may even be another video out of that visit.
Speaking of videos, a new video of Buttons has been posted about his trip to the pack meeting. And it is time to announce that the Melrose Scouting Productions Podcast can now be found on the PTC Media network! I am honored to be a part of this Scout-related network of podcasts. The Melrose Scouting Productions Podcast has joined The Leader's Campfire, An Hour A Week?, and Akela's Adventure. Check out PTC Media HERE.
Download Video Podcast
Watch Video on the troop's website.
Subscribe through iTunes.