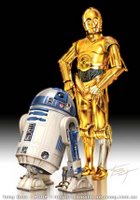 It is amazing what you can find on the internet where you are bored and have nothing to do. This morning I found an article that brings together two things I really like – Scouting and Star Wars. Anthony Daniels, the actor who brought the droid C-3PO to life in the Star Wars movies, was a Cub Scout for a brief time. Unfortunately, he did not stay a Cub Scout for very long. It looks like he really did not quite understand what Scouting was all about.
You can read about it at the Official Star Wars Blog.
http://starwarsblog.wordpress.com/2007/08/08/c-3po-was-a-cub-scout/
I always like it when I find out well known people were in Scouting.