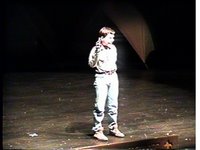 In 1996 the Boy Scouts of Troop 68 held their first Laughs For Lunch Show. There have been quite a few since then, eleven in all. The boys have a great time doing them, and the audience seems to have a lot of fun watching the shows.
This video is part of that very first show. It is the Echo System skit, which is one of the oldest skits in Scouting. At least I think it is an old skit. It has been one of the favorites of the troop's, and very easy for the younger Scouts to learn. In this version we used a "remote control" to turn the echo system on and off.
One thing that always scares me a little when the boys do this skit is that I never know what line they will come up with for the punchline. It often changes from performance to performance. But that is okay, as long as they keep it clean.
Enjoy it and let us know what you think of it by leaving a comment.
Download Podcast
Watch Video on the troop's website.
Subscribe through iTunes.